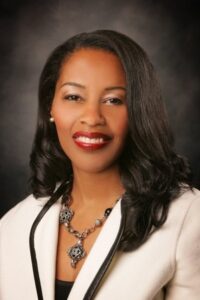 Overview
With over 20 years of experience in leading change management, strategic planning, organizational design, 360 feedback, mentoring, employee engagement, team development, process re-engineering, succession planning and executive coaching initiatives, Colette routinely works with Fortune 500 clients and their executive teams to design and implement organizational and leadership development initiatives with the sole purpose of producing tangible, measurable business results.
Experience and Expertise
Prior to joining The Executive Edge®, Colette held executive, leadership, and organizational development positions within the Fortune 500 arena on a national and global platform. Colette was responsible for coaching and developing middle-to executive level leaders, organizational transformation initiatives, the creation of end-to-end diversity education and branding strategies, as well as the design of several corporate university programs and their supporting systems including customized assessments, individualized and team competency inventories, instructional design and delivery, and partnering with senior leaders to integrate and develop core competencies in tandem with the company vision. Colette's key areas of expertise include:
Design and implementation of strategic HR services
Design and implementation of culture change solutions
Design and implementation of succession management systems
Design and implementation of leadership and organizational development processes
Utilizing her academic training and practical experience, Colette has a keen talent for designing end-to-end OD strategies that align with the company's overall business strategy, succession planning, and leadership development initiatives. Her consultative approach includes partnering with leaders at all levels of the organization to identify and address talent management opportunities and developing action plans to close identified gaps.
A proponent of the whole systems methodology, each project she manages includes organizing key job performance indicators, creating reliable measurement systems to assist management in identifying superior performance, designing and managing organization needs assessments to determine the skill and competencies needed to drive the business strategy, serving as an assessor of management performance capabilities to identify fit for current and future roles, assisting the organization in managing the structural and cultural changes manifested by expansion and pressures on earnings, consulting with various business units (ie., finance, marketing, operations, IT, etc.) to determine "best-fit" learning and execution strategies.
She has worked with numerous clients including WR Grace, United Airlines, Ameritech , KPMG, SecurityLink, Comcast Cable, Walt Disney World, Ernst & Young, Productivity Point International, Firemen's Fund, Allianz, DJ Ortho, Thoratec, DeVry University, Wycliffe USA, Monterey Peninsula Hospitals, Jamba Juice, FASS Credit, Alain Pinel Realtors, The Kaleidoscope Group, US Forest Service, Macy's East, and Ross Stores.
Client Quotes
"Colette clearly understands the challenges and complexities of driving change to achieve tangible business results and drives transformation with a passion and empathy that is rarely seen in today's business climate. " – Executive Vice President Human Resources, Jamba Juice Company
"Colette is a seasoned professional who specializes in driving large scale organizational change–her technique and approach in identifying, initiating, and implementing short and long term business strategies has resulted in a more engaged and highly productive employee population overall." – Executive Vice President Operations, Ross Stores, Inc.
Honors and Awards
Colette's consulting practices have been recognized as best-in-class by organizations such as DDI, Jamba Juice, Comcast Cable, United Airlines, and Monterey Peninsula Hospitals.
Professional Certifications
The Executive Edge®: The Coaching AdvantEdge™
The Forte® Institute: Forte® Assessment Process
Development Dimensions International Targeted Selection
Achieve Global/Learning International
Retail Multi-unit Management
Profilor® by Personnel Decisions Inc.
Zenger Miller
Education and Professional Associations
Colette holds a Master's degree in Educational Administration/Organization Development from New York University and a Bachelor's degree in Business Education from Pace University in New York.
More About Colette
Colette is an avid traveler that has practiced her craft across four continents—Australia, South America, Asia, and Europe. She enjoys physical fitness, reading, comedy theatre, studying ancient texts, and the risks and rewards that accompany real estate and property investments.
Learn More
For additional information about The Executive Edge®, please contact us at:
Phone: 1.630.404.2256
Email: info@theexecutiveedge.net
Web: http://www.theexecutiveedge.net/