We work with executive teams to design customized Strategic Planning Processes/Retreats and leverage the experience of your senior leaders. We provoke dialogue around your current and future customers, your current and emerging competitors, your core capabilities and your unique value proposition. We challenge your executive team to think outside the box to develop its mission, vision and/or long-range strategic business goals which will position the company for both short and long-term success.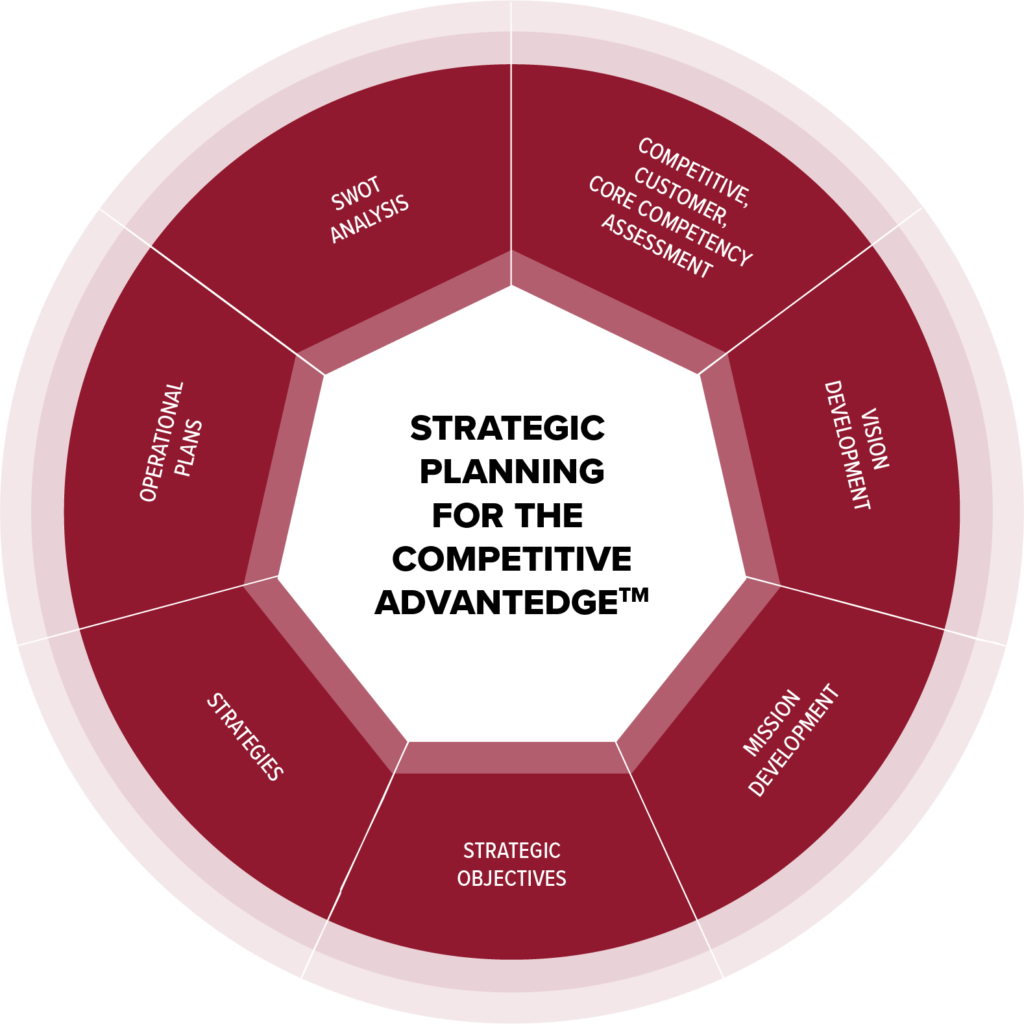 We work with your team to facilitate engaging discussions to identify alternative breakthrough strategies, evaluate the options and select the optimal strategies to achieve your vision. Lastly, we will work with the team to develop and implement a robust communication plan to ensure that the strategic direction is understood by the Board down to the front-line employees who interface with your customers.
From time to time, it is necessary to take a step back and objectively examine your current and potential customers, your core competencies, your competition and your culture.  We will work with you to design custom tools, processes, exercises to encourage a collaborative and thought-provoking discussion of the current state.  Through this process, the senior team will walk away with a keen sense for where its strengths and core capabilities lie and gain agreement on the most significant opportunities to propel the business forward.  We'll also encourage the team to explore the current market industry trends and the implications for your business.  Whether your team is at the department, business unit or total corporation level,  this dialogue will set a solid foundation on which to build the organization's future direction and the strategies required to get there.
Senior leaders are finding it is imperative to be able to involve their team in shaping the long-term vision of the organization in order to drive focus in execution.  We work with executive teams to design and facilitate a rich and robust dialogue resulting in agreement on where the business is headed and what success will look like several years from now.  Through this collaborative dialogue, the senior leadership team gains total alignment on the strategic direction and builds a foundation for business growth.  We will partner with your senior leadership team to build a vision designed to consistently communicate the direction of the organization from the front-line to the boardroom.  In doing so, the stage is set for motivating the workforce to take actions and make decisions that will enable the vision to be achieved.
Through the years, your business must evolve and proactively adapt to meet the new challenges and opportunities in the marketplace.  We will work with your senior leadership team to examine its own mission and build its purpose so that it can be effectively conveyed to all key stakeholders.  Whether the mission is used to communicate with employees or board members, suppliers or contractors, customers or community leaders – it is imperative for leaders to express it consistently.  We will work with your leadership team to ensure that your mission/purpose is crisp and clean, thus increasing the probability of it being communicated accurately and consistently.
As organizations struggle with the challenge of doing more with less, it is essential to identify and communicate the most critical areas of focus for the business.  We will work with your senior leaders to discuss the many possible objectives framed at the organizational level.  We will discuss and gain agreement on the top 5-7 strategic objectives that your organization needs to drive laser-beam focus.  Through our proprietary and proven process, we will facilitate a collaborative discussion that encourages the team to reach a shared understanding of the top objectives and how success will be measured.  These objectives can easily serve as the foundation for your scorecard to drive accountability and ultimately success.
Leaders are faced with many difficult decisions on a daily basis. It has been our experience that deciding what not to do is equally as important as deciding what to do as an organization.  We will partner with your senior leaders to identify and evaluate the many strategic priorities that will shape your game plan for achieving your vision.  We have a highly successful and proven process for helping leadership teams decide what the strategic priorities will be both in the short and long term.  Through years of experience in leading teams through this process, we can put our expertise to use in helping your team identify the "critical few" priorities, thus increasing the probability of keeping your workforce focused.
Your senior leadership team may already have a well-crafted strategic direction and may only require the establishment of an operational plan for the next fiscal year.  We will design and facilitate a process that your team can use to identify the most critical short-term initiatives, key milestones, owners and timetables necessary to ensure excellence in execution.  We will also encourage a rich dialogue of the interdependencies, timetables and allocation of resources to ensure total alignment of your senior team.  In doing so, the team is set up for success by communicating fully and minimizing the surprises and unanticipated obstacles that can occur during the course of the year.