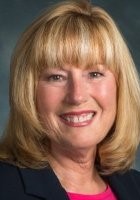 Role
Experience and Expertise
Prior to joining The Executive Edge®, Kay acquired a broad base of experience working with all levels within an organization, executive to front-line leaders, in telecommunications, technology, business support services, education, healthcare and non-profit organizations. Additionally, she has over 10 years experience in key line and staff positions within the AT&T/SBC/Ameritech Corporation. Key positions have included roles as Director of Organizational Learning and Director Executive Leadership and Development. Kay's areas of expertise include:
Organization Effectiveness Consulting
Executive Coaching
Leadership Development and Training
Change Management
Line Operations Management
Kay values a collaborative partnership with her clients focused on helping both individuals and organizations to appreciate and improve what they do especially well. She holds the belief that individuals have vast potential to achieve success personally and professionally. Kay guides her clients to find the answers within themselves to achieve their goals and attain results.
She has worked with numerous clients including U.S. Cellular, America On-Line, Convergys HRM, Qwest Communications, Lyondell-Basell, DeVry University, Sara Lee Corporation, University HealthSystem Consortium, Safer Foundation and Absolute Vision Care.
Client Quotes
"Kay easily wears the hat of "coach", "corporate conscious" and "confidant" and draws you to find answers and conclusions that may look obvious in hindsight yet would have taken significantly longer to congeal and articulate without his guidance." – Vice President Sales and Operations
"As someone who was very skeptical about the value an OD professional and executive coach can bring, Kay totally won me over. She is a change agent with the ability to help people internalize the need for change and translate that into action." – President Business Communication Services
"Most executives do not have access to open and honest feedback within their organizations. The political system ensures that. Yet their thirst for personal and business growth is the highest within an organization. Kay's natural insights and candor make her an excellent executive coach." – SVP and Chief Human Resources Officer
Professional Certifications
Center for Creative Leadership (CCL®): Benchmarks® and Executive Dimensions®
The Executive Edge®: The Coaching AdvantEdge™
The Forte® Institute: Forte® Assessment Process
Myers Briggs Type Indicator
Vitalsmarts®: Crucial Conversations
MRG Leadership Effectiveness Analysis
Prosci Change Management
Five Dysfunctions of a Team – Lencioni
Education and Professional Associations
Kay holds a B.A. from National Louis University. She has completed the Coaches Training Institute Co-Active Coaching program and Newfield's Coaching Excellence in Organizations program. She is a member of the International Coaching Federation (ICF), Human Resources Management Association Chicago (HRMAC), International Leadership Association (ILA), and the Organization Development Network (ODN).
More About Kay
Kay and her fiancee reside in the southwest suburbs of Chicago. Kay enjoys spending time with family and pursues her interests in walking, dancing, boating and fishing.
Learn More
For additional information about The Executive Edge®, please contact us at:
Phone: 1.630.404.2256
Email: info@theexecutiveedge.net
Web: http://www.theexecutiveedge.net/