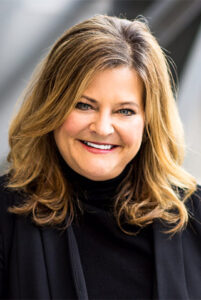 Role
Kim Ramsey is the President and Founder of The Executive Edge®, Inc., a niche national consulting firm that specializes in accelerating the growth of organizations, teams and their leaders.  She has over 25 years of experience in strategic planning, executive coaching, executive team development, accelerated leadership development strategy, change management, organizational design, 360 feedback, mentoring, design of performance management systems and more.  She routinely works with Fortune 500 clients and their executive teams to design and implement organizational and leadership development initiatives resulting in tangible business improvements.
Prior to founding The Executive Edge®, Inc., Kim led Executive and Leadership Development at the AT&T/Ameritech Institute where she was responsible for coaching and developing the corporation's most senior executives across North America.  She received national recognition by the Corporate Leadership Council, Linkage Inc., ASTD and the International Productivity and Quality Council (IPQC) for her "best practices in developing & retaining high potential talent."  She also led Organizational Development and Leadership Development for ACNielsen's North American business.   In addition, her experience included leading the Human Resources organization for SONY's Consumer Electronics Group for the Midwest Region and a start-up operation in Nuevo Laredo, Mexico.  She has held additional leadership positions at Harris Corporation and the Tribune Company overseeing the executive leadership and organizational development efforts for 26 business units across the country.
Experience and Expertise
Kim's key areas of expertise include:
Facilitation of Board and senior leadership team alignment sessions to determine the desired strategic direction, corporate culture and/or leadership behaviors required to execute the business strategies. Keynote speaking – Aligning Generational Differences, Strategy in Action, What Does it Take to be "High Potential?  Executive Presence
Designing and facilitating large-scale organizational/culture transformation initiatives
Executive and high-potential coaching (Typically CEO's, Executive/Group Vice-Presidents and Vice-Presidents)
Design and facilitation of strategic planning processes which result in a long-range vision and breakthrough strategies which can propel business growth through laser-beam focus.
Development of high potential leadership development and talent management strategies at the corporation- level designed to aggressively develop talent to be ready for mission critical positions
Leadership development strategy and total curriculum design
Kim has spent her career partnering with organizations in transforming themselves by creating strategic focus and then aligning the design of their strategy, organizational structures and talent necessary to succeed.  She has done executive coaching and change work in start-ups, fix-its and mergers across numerous industries.  Kim uses her strong business acumen as a way of building solutions that engage business leaders and help clients create and implement sustainable culture initiatives to overcome the issues that challenge them.  Kim has presented at numerous conferences including the International Quality and Productivity Center, Leadership Development Congress, Society of Human Resources Management, Linkage, American Press Institute, Women in Communication, Women in Wireless, Best Practices HRD Conference, American Society for Training and Development and the Midwest Training Conference.
Client Quotes
"Kim is an extremely savvy business professional who is excellent at helping leaders navigate the political environment.  Her unique insights combined with practical solutions added great value. "  – Vice-President, Operations, CertainTeed Corporation
"I engaged Kim as I was seeking a partner who would help us to drive accountability and focus on the strategic priorities of our company. Kim did her homework to develop a strong grasp of our organization prior to our first meeting.  Her ability to probe to the heart of issues we were facing, and provide the feedback we needed, was the first step in building a strategy to make us more effective was truly exceptional.  Kim helped us build a framework for strategy development and accountability that is still in place today, more than three years now since we partnered with the firm. The enduring legacy of this partnership has left our team stronger and more focused and I would not hesitate to recommend Kim and The Executive Edge to another company looking for partner who can deliver sustainable improvements for their own organization.  – President/Executive Vice-President, Harris Private Bank/Harris myCFO, Inc.
"As both a member of the advisory committee at DeVry that partnered with Kim Ramsey to create the organization's high-potential leadership development program and as a graduate of the first class of the program itself, I have a unique perspective on how the firm has been able to partner with our organization design and implement strategies that produce a continual stream of ready-now talent for key leadership roles throughout the company.  Kim and The Executive Edge team proved to be a tremendous business partner.  I believe the leadership competency development, high-potential leadership development, and executive coaching programs implemented are some of the finest programs that have been created to develop leaders in any organization. What we have accomplished to date as a result of our partnership with Kim has been truly remarkable and I would not hesitate to recommend her to another organization looking to develop their current and future leaders." – Campus President, Sherman Oaks, California, DeVry, Inc.
"Kim is an extremely knowledgeable and strategic leader who takes great pride in developing leading-edge development practices for executives.  She is very passionate about developing people and measures her success on leaders' ability to achieve their personal and professional goals."  – Vice-President, Human Resources, Sterling Partners Private Equity
"Kim Ramsey and The Executive Edge led our Harris Private Bank Managing Directors through a Strategic Planning process.  Our goal was to adopt a high performance culture, and to seek greater individual and team contributions from our employees in order to grow our business exponentially.  The Executive Edge framework served to educate and focus an elite group of managers who were critical to our organization's success.  We worked together to develop key strategic priorities to be executed over a two year timeframe.  These priorities would be the foundation of an organizational shift into a high performing culture with a new definition of both personal and corporate success. Through Kim's teachings, we each became individual change agents who were empowered to go back into our own markets to guide our teams to greater contributions.  While we are still engaged on our path of change, the tangible and financial signs of success are there and will only deepen and broaden with time.  Kim Ramsey provided us tremendous guidance and education with far-reaching results. I am a big believer." – Vice-President/Sr. Managing Director, Midwest Region, BMO Harris Private Bank
"I have utilized Kim's strategic planning skills to both design and facilitate my strategic planning retreats.  She is able to guide executive teams through complex discussions of their core capabilities, discuss, evaluate and select the optimal strategies for our business and shape specific plans for operational focus.  She helped our team drive focus in areas that resulted in double-digit growth in a tough economic climate."  –  Vice-President, Talent Management, Sara Lee
Clients
Kim's global clients include:  Ace Hardware, RR Donnelley, ACNielsen, ComEd, McDonald's, Navistar, Sara Lee, Follett Higher Education Group, Chicago Tribune, AT&T, Equity Office Properties, Discover Card, Sears Roebuck, DeVry Inc., University Health Systems, Forsythe Technology, Pepsi, SecurityLink, Sterling Partners Private Equity, Crowell & Moring, LLP, CertainTeed, University of Chicago Law School, Ross Medical University, Bel Brands USA, Principal Financial Group, True Value, Publicis Groupe, Stoel Rives, LLP, BMO Harris, Elkay Manufacturing, Ross Stores, Jones Lang LaSalle and more.  Her clients appreciate the keen sense that Kim possesses for understanding the challenges and complexities of driving change to achieve tangible business results.
Professional Certifications
The Executive Edge®: The Coaching AdvantEdge™
The Executive Edge®:  Strategic Planning for Competitive AdvantEdge

™

The Executive Edge®:  The Organizational Design AdvantEdge

™

Certified Situational Leadership® Trainer (Center for Leadership Studies)
Certified Targeted Selection® Administrator (Development Dimensions, International)
Certified in the Center for Creative Leadership:  360 Methodologies and Coaching
Certified in the ExperienceChange Business Simulations through ExperiencePoint, Toronto, Canada
Certified in The Forte® Institute: Forte® Assessment Process
Certified in Achieve Global/Learning International  – Account Management, Added-Value Selling, Quality Service Skills
Certified in Profilor® by Personnel Decisions Inc.
Certified in Lominger tools
Honors and Awards
In August, 2005, she was admitted into the Manchester "Who's Who in America" based on accomplishments in the field as well as the Strathmore "Who's Who in America" in 2013.  Her work was also recognized by the Corporate Leadership Council, a division of the Executive Board, an internationally recognized business research organization as a best practice in developing high potential leadership development strategies (February, 2004.)  She was featured in Training Today for best practices in "Measuring the Impact of Superstar Development."  She has also been awarded Ameritech's Small Business "President's Award" for launching a corporate-wide strategy for developing leaders of the business.  She received recognition for "Superior Leadership" from the Ameritech Institute as well.  Kim has served on numerous boards including the Midwest Training Conference board for five consecutive years as well as her service as Vice-President of the American Society for Training and Development (ASTD) and President of Toastmasters International for 4 consecutive years.
Education and Professional Associations
Kim holds a Master's degree in Human Resources from the University of Illinois School of Labor and Industrial Relations, Champaign-Urbana and a Bachelor's degree in Industrial Psychology, also from the University of Illinois.  She currently serves as the Vice-President of Programs for the Chicago chapter of the Association for Strategic Planning and the Chairperson of the Chicagoland HR Consortium.  In the past, she served as a Vice-President, Programs for the American Society of Training and Development, and an elected member of the Board of Advisors for the University of Illinois, Graduate School of Labor and Industrial Relations for a three year term.  She is also a member of the National Association of Woman Business Owners, Society for Human Resources Management, Organizational Development Network, the National Association for Strategy Professionals and the Chicago Human Resources Management Association, a professional association for advancing Human Resources.  Lastly, she served as Parish Council President for the last three consecutive years for the second largest Catholic church in Illinois.
More About Kim
Kim, her husband Paul, and their four children reside in the western suburbs of Chicago.  She enjoys spending her spare time with family travelling, boating, snow and water skiing.
Learn More
For additional information about The Executive Edge®, please contact us at:
Phone: 1.630.404.2256
Email: info@theexecutiveedge.net
Web: http://www.theexecutiveedge.net/