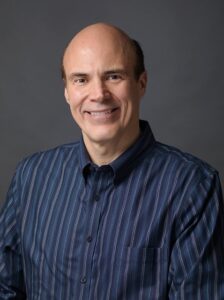 Role
Ray is an accomplished human capital consultant and leader combining human resources, learning and organizational development and talent management, organization effectiveness and implementation expertise. Ray has over 22 years experience working in Fortune 200 organizations. As Senior Consultant for The Executive Edge®, Ray helps organizations realize the full value of their human capital. Ray effectively partners with all levels of clients, from managers to executives, to develop solutions that address their specific business needs.
Experience and Expertise
Ray Turek has over 22 years senior leadership experience in Human Resources, Learning and Organizational Development, Talent Management and Risk Management at Waste Management, a multi-site, multi-state organization.  Ray has experience working in environmental and industrial services, logistics and transportation, manufacturing, retail and healthcare. He has successfully led organizations to higher performance by creating alignment with the business strategy, increasing employee engagement and driving results through metrics. He has been the architect of business change initiatives that have transformed organizations and functional departments resulting in increased operating margins, employee engagement and team performance.
Ray led the transformation of the Learning and Organizational Development function at Waste Management, a Fortune 200 company with 47,000 employees and $13.2 billion in revenue. He established and managed the first Learning & Development Governance Council comprised of the President/COO, Senior Vice Presidents of Sales & Marketing, Human Resources, Customer Service, Information Technology and the Corporate Secretary, resulting in $8 million in savings.
He spearheaded a major change initiative from its grass roots beginnings to national implementation resulting in $4.3 million in savings. The initiative shifted leadership from command and control to engagement and empowerment resulting in improved employee engagement, operating profits, customer service, turnover, retention and safety.
Before his role in Learning & Organizational Development, Ray was the Vice President of Human Resources for the Midwest Group of Waste Management. There he created and executed the human resources strategy for a 10,000 employee, $2.3 billion revenue business unit. In both roles, Ray has coached, mentored and facilitated senior and mid-level executives across multiple functions including operations, sales, finance, legal, customer service, environmental health and safety. He was also responsible for talent acquisition and management, succession planning and development of high potentials. The coaching occurred during business climates of significant growth, in contractions and with mergers, acquisitions and divestitures. Ray is experienced in the areas of:
Strategy Design & Execution
Human Capital Strategy Design and Execution
Talent Acquisition and Management, Learning and Organizational Development
Change Management/Organizational Transformation
Employee & Labor Relations
Restructuring
Mergers, Divestitures and Acquisitions
Branding & Communication
Customer & Employee Engagement
Coaching and Mentoring
Lean Six Sigma and Total Quality Management
Client Quotes
"Ray has the unique ability to come into a situation, assess the issue and quickly develop a plan to drive progress quickly. He is a senior executive that understands the power of practicing true leadership." – SVP HR,  Fortune 200 Company 
"I relied on Ray a great deal in my role as one of those charged with leading the employee and customer engagement effort. People like me did a lot of talking about what we wanted, but Ray actually executed the strategy. He put "theory" into practice. He got tangible results. While his contributions were many, one of the most significant was his leadership in a huge cultural transition we called "Breakthrough Performance Leadership" that engaged people, improved productivity, eliminated costs associated with turnover, and created positive energy at the field level. His strategic oversight and technical direction was the driving force in actual program rollout and acceptance." – SVP Customer Engagement, Fortune 200 Compa
"Ray brings a unique blend of senior level HR Generalist and Organizational Development strategic skills coupled with the ability to "roll up his sleeves" to get the job done. Ray is equally capable of communicating effectively at the highest levels of any organization and yet is comfortable with one-on-one communications with front-line employees." – HR VP, Waste Management
"I was fortunate enough to work with Ray for 8 years. He is by far the best manager, coach, and mentor that I have worked for. He is an exceptional communicator and team builder. He possesses an understanding of the business which translates to the ability to make things happen and get desired results." – Regional Sr. HR Manager, Waste Management
Honors and Awards
Ray has published articles in Chief Learning Officer Magazine on improving front-line supervisor performance titled "Waste Management: Centering Training and Development on Field Operations" and effectively using a governance process to add business value and reduce costs titled "Aligning Learning Programs" Chief Learning Officer Radio Podcast.
Professional Certifications
The Executive Edge®: The Coaching AdvantEdge™
Lean Six Sigma Certified
Certified EQMentor
Certified Senn-Delany Executive Coach
Certified Gallup Great Managers Program
Certified IBM Process Analysis Technique and Process Management
Professional Certifications
Ray holds a Bachelor of Science in Psychology and Law Enforcement from Northern Michigan University, Marquette, MI and graduated cum laude. He holds a Masters of Business Administration, Finance from North Central College, Naperville, IL and graduated cum laude.
Ray belongs to the following professional associations:
Houston Technology Center – Economic Development Committee
American Society for Training and Development
Society for Human Resource Management
CEO Netweavers
Diveheart
More About Ray
Ray, his wife and two children love vacationing by Lake Michigan. In his spare time Ray is a technical scuba diver and an avid guitarist.
Learn More
For additional information about The Executive Edge®, please contact us at:
Phone: 1.630.404.2256
Email: info@theexecutiveedge.net
Web: http://www.theexecutiveedge.net/